The Strojniški vestnik – Journal of Mechanical Engineering publishes theoretical and practice oriented papers, dealing with problems of modern technology (power and process engineering, structural and machine design, production engineering mechanism and materials, etc.) It considers activities such as: design, construction, operation, environmental protection, etc. in the field of mechanical engineering and other related branches.
Content:
Kuidong Gao, Jihai Liu, Qingliang Zeng, Jingyi Cheng, Liqing Sun, Lisong Lin: Study on the Dynamic Characteristics of Bit Anchor Cable Drilling in the Gravel Sediments of a Soft Rock Bottom Hole
Risu Na, Kaifa Jia, Shujing Miao, Weiguo Zhang, Quan Zhang: Analysis of the Dynamic Characteristics of a Gear-Rotor-Bearing System with External Excitation
Cedrick Iradukunda, Kudzanayi Chiteka: Angstrom-Prescott Type Models for Predicting Solar Irradiation for Different Locations in Zimbabwe
Guolin Wang, Kexin Zhu, Lei Wang, Jian Yang, Lin Bo: Influence of the Side Branch Structure Pattern of the Imitation Cat's Claw Function on the Vibration and Noise of Tires
Emmanuel Basitere, Ilesanmi Daniyan, Khumbulani Mpofu, Adefemi Adeodu: The Application of Neural Networks to Modular Arrangements of Predetermined Time Standards
Yuewei Yu, Yunpeng Song, Leilei Zhao, Changcheng Zhou: Analytical Formulae and Applications of Vertical Dynamic Responses for Railway Vehicles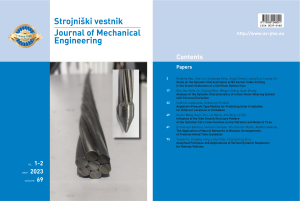 The open-access journal may be viewed here: https://www.sv-jme.eu/issues/issue-1-2-volume-69-2023/.