VENTIL is a scientific-technical journal dedicated to the area of the fluid technology, automation, and mechatronics. The main mission of Ventil is the transfer of knowledge into practice, the further development and popularization of the areas of fluid technology, automaton and mechatronics, and also care for the technical terminology in these areas.
Editorial of the forth issue of Ventil magazine in 2023  "Podnebne spremembe, ujme in druge vremenske neprilike" (Janez Tušek)
From the content:
PREDSTAVITEV
Tanja Potočnik Mesarić: Fakulteta za strojništvo z novo raziskovalno opremo še več možnosti vrhunskih raziskav in sodelovanja z industrijo – 4. del
NOVICE – ZANIMIVOSTI
Janez Škrlec: Različni pogledi na prihajajočo novo industrijsko paradigmo
Žirovski Poclain Hydraulics za svoj ventil prejel zlato regijsko priznanje za najboljšo inovacijo
 POLIMERNI ZOBNIKI
 Damijan Zorko, Klemen Kolar, Bor Mojškerc, Nikola Vukašinović: Raziskava vplivov na rast razpoke v korenu zoba polimernega zobnika
PLANIRANJE POTI VOZIL 
Matevž Bošnak, Andrej Zdešar, Rok Vrabič, Viktor Zaletelj, Gregor Klančar  246: Vseživljenjsko večagentno planiranje poti avtomatsko vodenih vozičkov v intralogistiki
PREZRAČEVALNI SISTEMI 
Gašper Brunskole, Uroš Stritih: Primerjava izmerjenih in projektnih vrednosti glede na intenzivnost prezračevanja prostorov
VZDRŽEVANJE HIDRAVLIKE
Franc Majdič: Vzdrževanje hidravličnih naprav – 13. del
INTERVJU
Kolesa in valji Elesa+Ganter
AKTUALNO IZ INDUSTRIJE
Za varno postavitev (ELESA+GANTER)
CAN bus arhitektura na voljo v aktuatorjih THOMSON LINEAR (INOTEH)
NOVOSTI NA TRGU
Visoki navori s kompaktnimi stožčastimi in polžastimi gonili (ELESA+GANTER)
Močna vpenjalna matica ESB – preverjeno vpenjanje brez popuščanja (ENEMAC)
Izdelki AVAC se zdaj prodaja pod blagovno znamko PIAB (INOTEH)
PODJETJA PREDSTAVLJAJO
Prva certificirana energijska veriga za čiste prostore (HENNLICH)
Varčevanje z energijo pri kompresorjih s frekvenčno regulacijo (OMEGA AIR)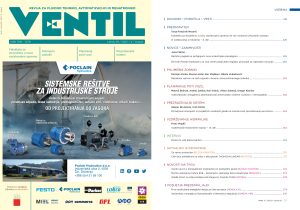 You can read more about Ventil magazine HERE, you can order it HERE, and you can find the archive HERE.