VENTIL is a scientific-technical journal dedicated to the area of the fluid technology, automation, and mechatronics. The main mission of Ventil is the transfer of knowledge into practice, the further development and popularization of the areas of fluid technology, automaton and mechatronics, and also care for the technical terminology in these areas.
Editorial of the sixth issue of Ventil magazine in 2022 "Čas beži, spremembe so stalnica, mlajše se stara, staro odmira; takšna je narava življenja in mi smo del nje" (Janez Tušek)
From the content:
Tanja Potočnik Mesarić: Z raziskovalno platformo Zelena in varna mobilnost Fakulteta za strojništvo Univerze v ljubljani podpira cilje evropskega zelenega dogovora
Jaka Tušek: Trajno-dinamični elastokalorični regenerator z rekordnimi hladilnimi in grelnimi karakteristikami
NOVICE – ZANIMIVOSTI
HIDRAVLIČNE TEKOČINE 
Darko Lovrec: Združljivost filtrirnih materialov z ionskimi hidravličnimi tekočinami
HIDRAVLIČNI VENTILI
Dominik Božič, Franc Majdič: Razvoj miniaturnega proporcionalnega hidravličnega ventila za krmiljenje gibov humanoidnega robota
AKTUALNO IZ INDUSTRIJE
Visoka čaistoča: Standardizirani elementi v izvedbi Hygienic Design (ELESA+GANTER)
Ročaji M.2000-SWM (ELESA+GANTER)
USB tlačni pretvorniki: GD4200-USB (INOTEH)
Generatorji vakuuma gpiCOMPACT®23 SMART (INOTEH)
E-MOBILNOST: ZIMMER GROUP ponuja rešitv e-avtomatiziranega
delovanja na vseh področjih e-mobilnosti (INOTEH)
NOVOSTI NA TRGU
Pametni pnevmatski pozicionirni zatič (ELESA+GANTER)
Precizni tekalni valjčki (ELESA+GANTER)
Vakuumsko prijemalo piCOBOT®L (INOTEH)
Emerson AVENTICS Serija  AV03/05 v sinergiji s procesnimi ventili (La & Co.)
Emerson ASCO Serija 290D (Novak sistemi)
PODJETJA PREDSTAVLJAJO
Procesne svetlobne zavese za zaznavanje obdelovancev (FBS Elektronik)
Dvižna ogrodja in noge za ergonomska delovna mesta v proizvodnji (HENNLICH) Vakuumske črpalke in sistemi (OMEGA AIR)
LITERATURA – STANDARDI – PRIPOROČILA
Prva knjiga o bioniki v Sloveniji
Nove knjige
PROGRAMSKA OPREMA – SPLETNE STRANI
Zanimivosti na spletnih straneh
ZNANSTVENE IN STROKOVNE PRIREDITVE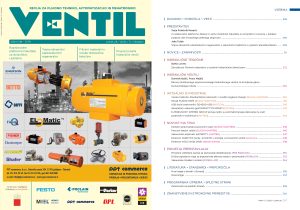 You can read more about Ventil magazine HERE, you can order it HERE, and you can find the archive HERE.