The Rector's Awards for the best innovation at the University of Ljubljana (UL) were presented yesterday as part of the Uni.Minds festival. The prizes, worth a total of €18,000, were distributed among nine projects competing in three different categories: students and alumni, researchers and UL staff, and students with ideas, solutions and innovations for society's challenges, competing for first, second and third place.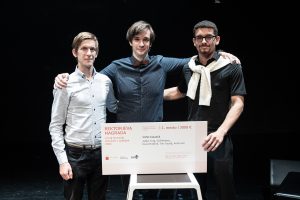 Photo: Katja Kodba/STA
The first prize of €3,000 was awarded to two projects from the Faculty of Mechanical Engineering. In the Students and Alumni category, first prize went to a team of three students for their High-Speed 3D Printer project. Vid Nemec, Janko Tuta and David Kolšek, together with Vid Gostiša, Anžet Jarc, Matic Čič and Tim Guzel, developed a high-speed 3D printer in Peskovnik – an open laboratory of the Faculty of Mechanical Engineering – that prints 5.5 times faster than commercial 3D printers, reducing the three-hour printing time to just 30 minutes. At the same time, it contributes to the development of environmentally friendly technologies by enabling the sustainable production of products without waste.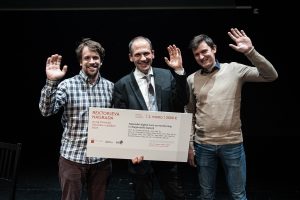 Photo: Katja Kodba/STA
In the category of researchers and employees of the University of Ljubljana, the first prize was awarded to the team from the Laboratory for Internal Combustion Engines and Electromobility (LICeM), Prof. Dr Tomaž Katrašnik, Assoc. Prof. Dr Chowdhury Haque Amer Amor, Dr Klemen Zelič, Igor Mele, Andraž Kravos and Ivo Pačnik, for their project Napredni digital twin za monitoring in diagnostiko baterij (Advanced digital twin for battery monitoring and diagnostics). The innovation combines a functional interplay of physicochemically consistent models that provide a more accurate insight into the internal states of the battery, a patent-protected methodology for computer-implemented diagnostics of battery states, and a patent-protected topology for the first physicochemically consistent model of a replacement circuit. The combination of these three innovations opens a new field of significantly improved possibilities for the control and management of batteries and battery systems.
The winners were congratulated at the event by the Minister of Higher Education, Science and Innovation, Dr Igor Papič, who stressed the importance of cooperation between the academic and business communities.
Congratulations to all the winners and participants!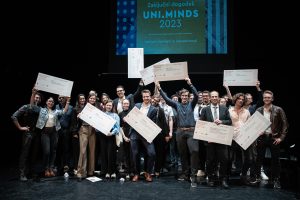 Photo: Katja Kodba/STA