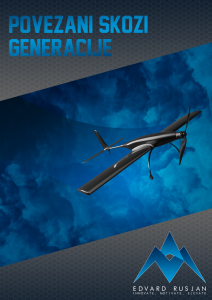 On Tuesday 14 November, members of the Edvard Rusjan team ceremonially unveiled the airplane at a special event in the lobby of the 5th floor. The airplane is just the latest in a 15-year series of Design-Build-Fly competitions in which students design, build and fly radio-controlled aircraft. Although the Team is constantly recruiting new and younger students, the successful intergenerational collaboration and knowledge transfer results in a better airplane every year. The progress made over the years was also celebrated by members of the Edvard Rusjan Team, with the special theme of the event being "Connected through the generations".
As a reminder, in this year's Design-Build-Fly competition organised by the American Institute of Aeronautics and Astronautics (AIAA), the students achieved an enviable 2nd place in a strong field of 99 universities from 14 countries. A team of 21 students from various faculties at the University of Ljubljana participated in the production of the competition airplane and prototypes, creating a light, fast composite airplane that can reach speeds of over 170 km/h and fly for more than 10 minutes at competition speed.
Prof. Dr. Mihael Sekavčnik, Dean of UL, Faculty of Mechanical Engineering, congratulated the team members once again and wished them great success for the future.