The Faculty of Mechanical Engineering will reopen the doors of its laboratories at the start of the 2023/24 academic year with the Open Faculty event.
All students are invited to visit the UL Faculty of Mechanical Engineering laboratories on Monday, 2. October 2023 from 10:30-13:00 to learn about their research projects and activities.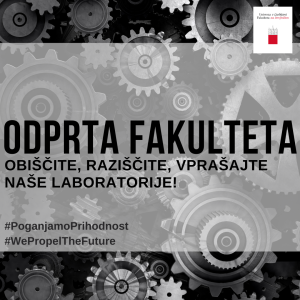 Why should you attend the event?
Modern engineering is interdisciplinary, creative, and innovative. It is based on high individual skills to meet the challenges of the future. Our laboratories are at the heart of our research, and this event will give you a glimpse into their world.
Each laboratory has expanded and deepened its specific area of expertise as research engineering has evolved. At the Open Faculty event, you will have the unique opportunity to:
See the labs: Find out where innovation and creativity are developing and how you can be part of it.
Connect with researchers: Meet the experts, ask questions, and discover new ways to develop your studies.
Find a topic for your Bachelor's or Master's thesis: Take a tour of the labs and find inspiration for your own research.
See the descriptions of the participating laboratories HERE and the locations of each laboratory HERE. The laboratories are signposted, and you can join a guided tour.
At the event, the stands of various student societies will also be set up in front of the faculty, where you can learn about their projects and activities. The following will present themselves at the Open Faculty:
The Student Council of the Faculty of Mechanical Engineering of the University of Ljubljana,
tutors of the Faculty of Mechanical Engineering,
Strojnik.si association,
DBF Edvard Rusjan Slovenian team,
Superior Engineering, Formula Student,
the SpaceDent project and
Sandbox – Open laboratory of the Faculty of Mechanical Engineering.
Guided tour options
After the protocol session, there will be guided lab tours for freshmen (HE and UN), which you can join.
Join us at the Open Faculty event and discover the wider world of science and innovation at the Faculty of Engineering. Let's build a better future together!