VENTIL is a scientific-technical journal dedicated to the area of the fluid technology, automation, and mechatronics. The main mission of Ventil is the transfer of knowledge into practice, the further development and popularization of the areas of fluid technology, automaton and mechatronics, and also care for the technical terminology in these areas.
Editorial of the sixth issue of Ventil magazine in 2022 "Izobraževanje, izobraževanje in še enkrat izobraževanje" (Janez Tušek)
From the content:
DOGODKI – POROČILA ­– VESTI
Inženirka leta 2022
Strateška konferenca Fakultete za strojništvo Univerze v Ljubljani
PREDSTAVITEV
Tanja Potočnik Mesarić: Fakulteta za strojništvo z novo raziskovalno opremo še več možnosti vrhunskih raziskav in sodelovanja z industrijo – 1. del
NOVICE – ZANIMIVOSTI
Janez Škrlec: Smernice tehnološkega razvoja in izzivi za novodobno industrijo
Mitja Koželj: S pomočjo podjetja ATR.SIS zaživel eden izmed najzmogljivejših superračunalnikov na svetu
HIDRAVLIČNE TEKOČINE
Darko Lovrec: Fizikalno ozadje pretakanja hidravlične tekočine skozi filter
AKTUALNO IZ INDUSTRIJE
Varna uporaba in korozijska odpornost (ELESA+GANTER)
Zaščitni elementi Elesa+Ganter (ELESA+GANTER)
Priključni kabli NEBA za širok spekter uporabe (FESTO)
Kompaktni linearni sistemi THOMSON LINEAR (INOTEH)
PIAB: Izbrana prijemala Joulin se zdaj prodajajo pod blagovno znamko Kenos® (INOTEH)
OMRON mobilni roboti s selektivno avtonomijo (MIEL Elektronika)
Sodelujoči robot Omron TM16 (MIEL Elektronika)
NOVOSTI NA TRGU
Učinkovito vpenjanje z varčevanjem prostora (ELESA+GANTER)
Nova mehasta sklopka iz nerjavečega jekla EWR s prerezanim
priključnim delom (ENEMAC)
Nova generacija polnilnih postaj BasicEVO 11 kW za električna vozila (FBS Elektronik)
Sesalne gume MX vakuumskih prijemal proizvajalca PIAB (INOTEH)
Nova miniaturna navojna vretena (INOTEH)
Electrak® XD – nova evolucija električnih aktuatorjev
Parkerjeva nova serija batnih aksialnih motorjev V16 (PARKER HANNIFIN)
PODJETJA PREDSTAVLJAJO
E-verige autoglide 5 igus za hitro priključitev (HENNLICH)
Avtomatsko dodajanje in urejanje izdelkov z Omron AnyFeeder (MIEL Elektronika)
Energetska učinkovitost prostega hlajenja v industriji (Freecooling) (OMEGA AIR)
End-of-Arm-Tooling podjetja Stäubli (STÄUBLI)
PROGRAMSKA OPREMA – SPLETNE STRANI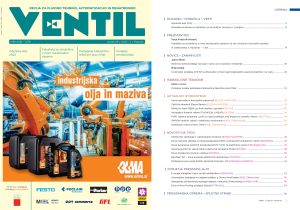 You can read more about Ventil magazine HERE, you can order it HERE, and you can find the archive HERE.